LEE-ANN CURREN
Be Yourself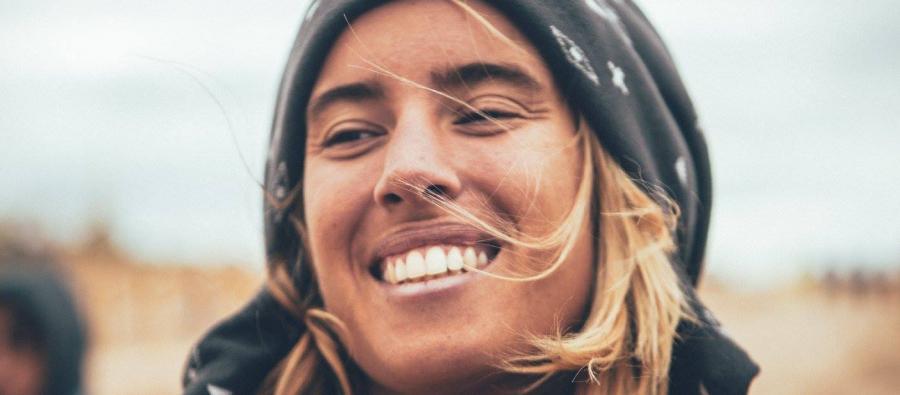 Photo Claudia Lederer
Our film screenings have been able to resume for several months and we really wanted to thank you for coming!
What a pleasure to share again this surf culture with you in a movie theater, a bar or a museum!
During these cultural breaks, most of the artists, including Lee-Ann Curren, had to adapt, like surfers without waves.
Songs writing, recording and rehearsing at home is great, but finding an audience for a live show is like sharing a magical session just with friends!
The stoke is here and we don't want it to stop.
For Lee-Ann Curren, it all started a little over 30 years ago in Biarritz.
Coming from an authentic family of surfers, Lee-Ann grew up in the waves of the Basque Country.
Her grandfather, Pat Curren, was one of the pioneers of surfing in Hawaii in the 1950s.
Her mother, Marie-Pascale Delanne, vice-champion of France and Europe, contributed to the development of women's surfing and her father, Tom Curren, was a three-time world champion surfer, before becoming a living legend of the discipline.
In surfing, she starts with the competition.
She became a pro and won two WQS Europe titles in 2007 and 2009, before finishing 12th on the WCT in 2010, being the youngest on the tour that year.
One year later, she left the championship after an injury, became a free surfer and took the opportunity to make more music, her second passion.
At the same time, she co-directs the film TITAN KIDS (2011), about children from the favela of Fortaleza in Brazil who try to escape from poverty and drugs through surfing.
After a first band, it is with Betty The Shark, a band in which she writes songs, plays bass and sings, that she starts to tour all over France and the world.
She then started to play alone.
We could hear her alongside CJ Mirra on the soundtrack of the surf movie Translate (2020) and in live alongside her father, Alex Knost or Lucie her girlfriend.
Last year, his first EP "Shapes and Colors" was released on Bellevue Music.
The album was recorded in London by Alan O'Connell, the producer of Metronomy and Duran Duran.
After a few concerts, everything stops, covid and lockdown...
While waiting for the announcement of a date near you, go listen to her music!
- Hi Lee-Ann,
how was your first wave ?
"I think it was on the nose of a longboard with my dad at Velzyland in Hawaii.
I must have been 1 or 2 years old, I don't really remember!
Otherwise, the first memories go back to the Basque Coast.
The foams waves standing on my banana-strawberry bodyboard, under the gaze of my mother and my stepfather Pierre."
I think my first surf was on the nose of a longboard

with my dad in Velzyland, Hawaii.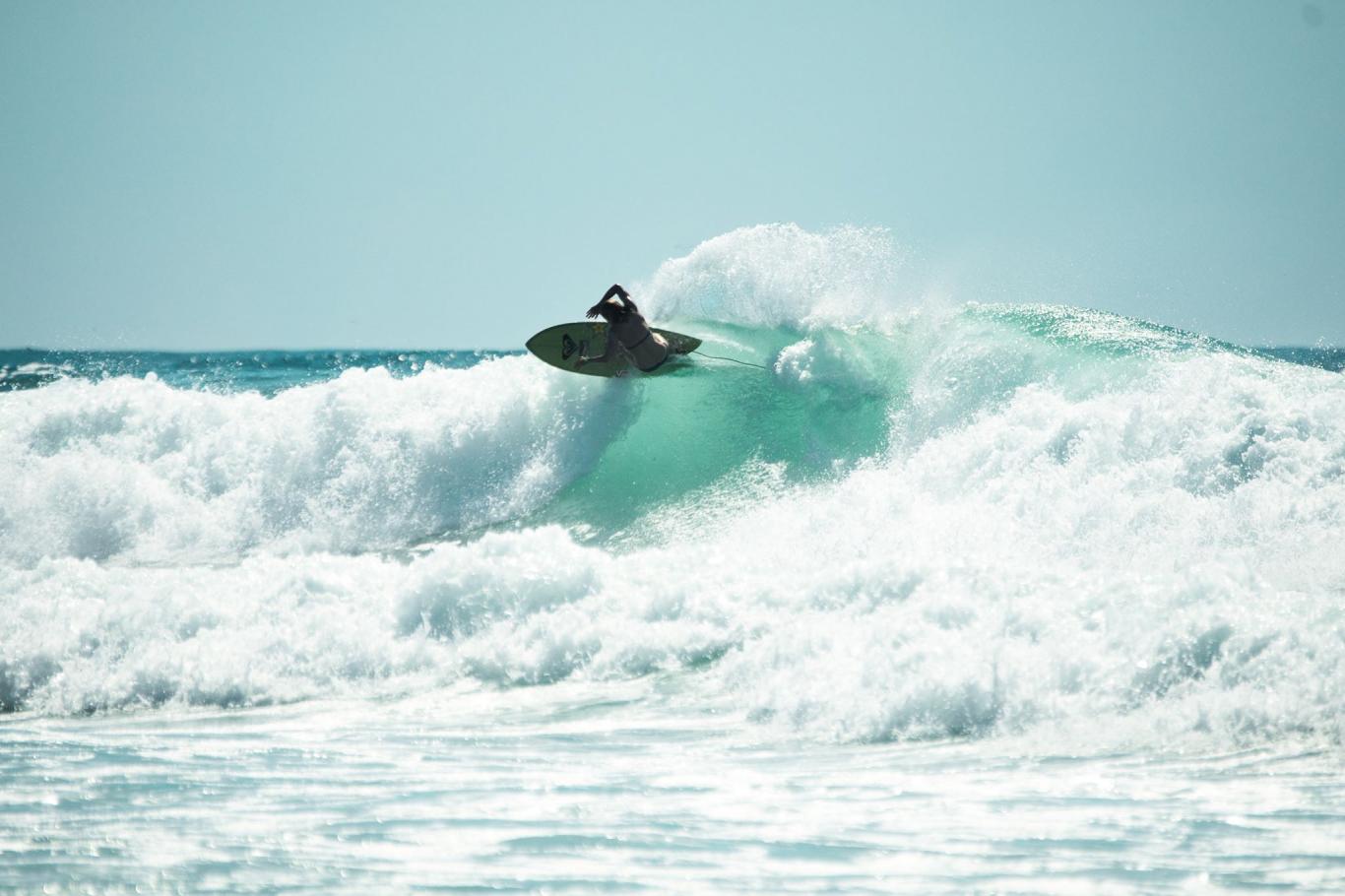 Photo Cait Myers
- What was your best surfing experience in family ?
"It has to be my first surfing on California point breaks.
With my brother Nathan for the Christmas vacations.
We must have been 14-15 years old.
On the plane we wrote our bucket list for the trip: take tubes, do 5 rollers on a wave, surf with Dane Reynolds...
The waves had been great for 2 weeks and everything finally came true."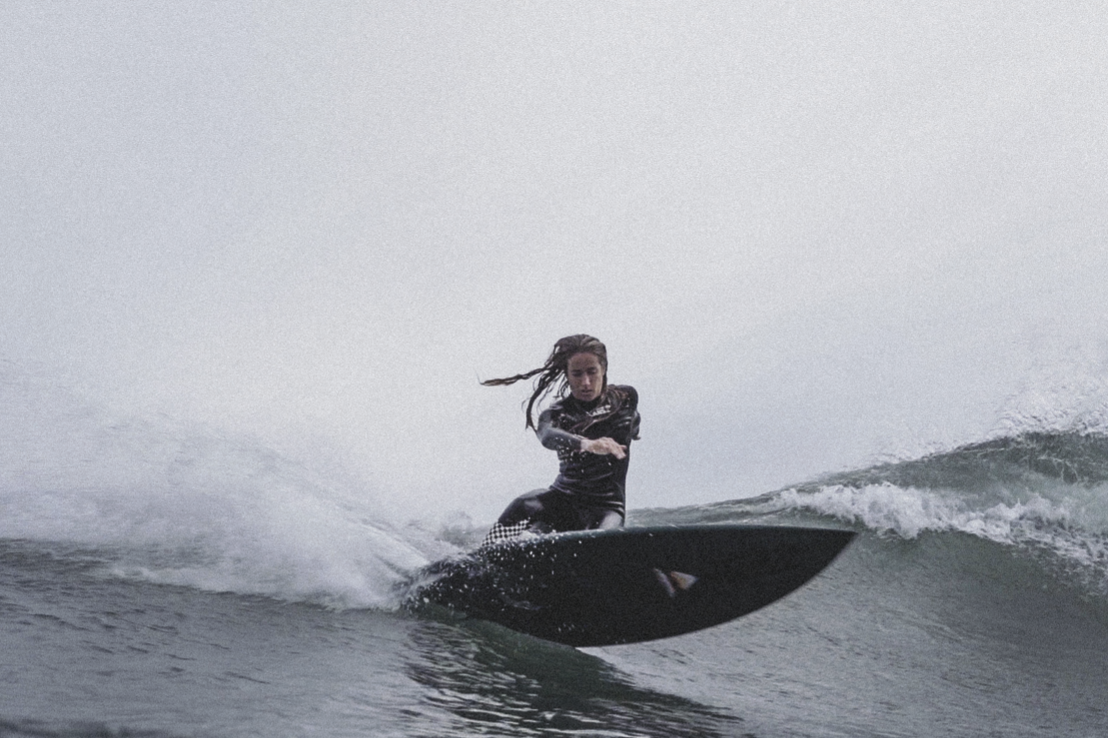 Photo Salt Water / Vans
- How do you position yourself between competition and free surfing ?
"I find that competition always pushes your level to the top.
It's great to follow what's going on and it's inspiring to see the results of the best surfers.
I think that's an important part of the sport.
My transition to free surfing was a natural one.
I was having a little trouble staying focused to keep up with the pace of the competitions and have results.
However, when we were traveling and taking pictures and videos, I was able to bring back content.
It was cool, my sponsors could use them.
In free surfing, I manage to exploit my scattering, to make it an advantage.
I also like to go on a lot of creative projects related to surfing and get into better waves with boards that are a little different that we used to see on contests."
- Who are your influences in surfing, art and life ?
"Andrew Kidman is a big influence in all 3 combined.
Kassia Meador, Leah Dawson, Mikey February, Ozzy Wright...the list is super long!
Mainly people who make people feel things with their surfing."
My influences are mainly people who make people

feel things with their surfing."
- What are your favorite surf movies ?
"In recent edits, I really liked "BIO HAZ" with Harry Bryant and edited this year by Matt Payne for the brand Octopus ...
..."SONIC SOUVENIRS", the portrait published by Vans on Mikey February and directed by Kai Neville...
and otherwise LITMUS by Andrew Kidman.
This film is a reference!
Patrick Trefz and Thomas Campbell's films as well."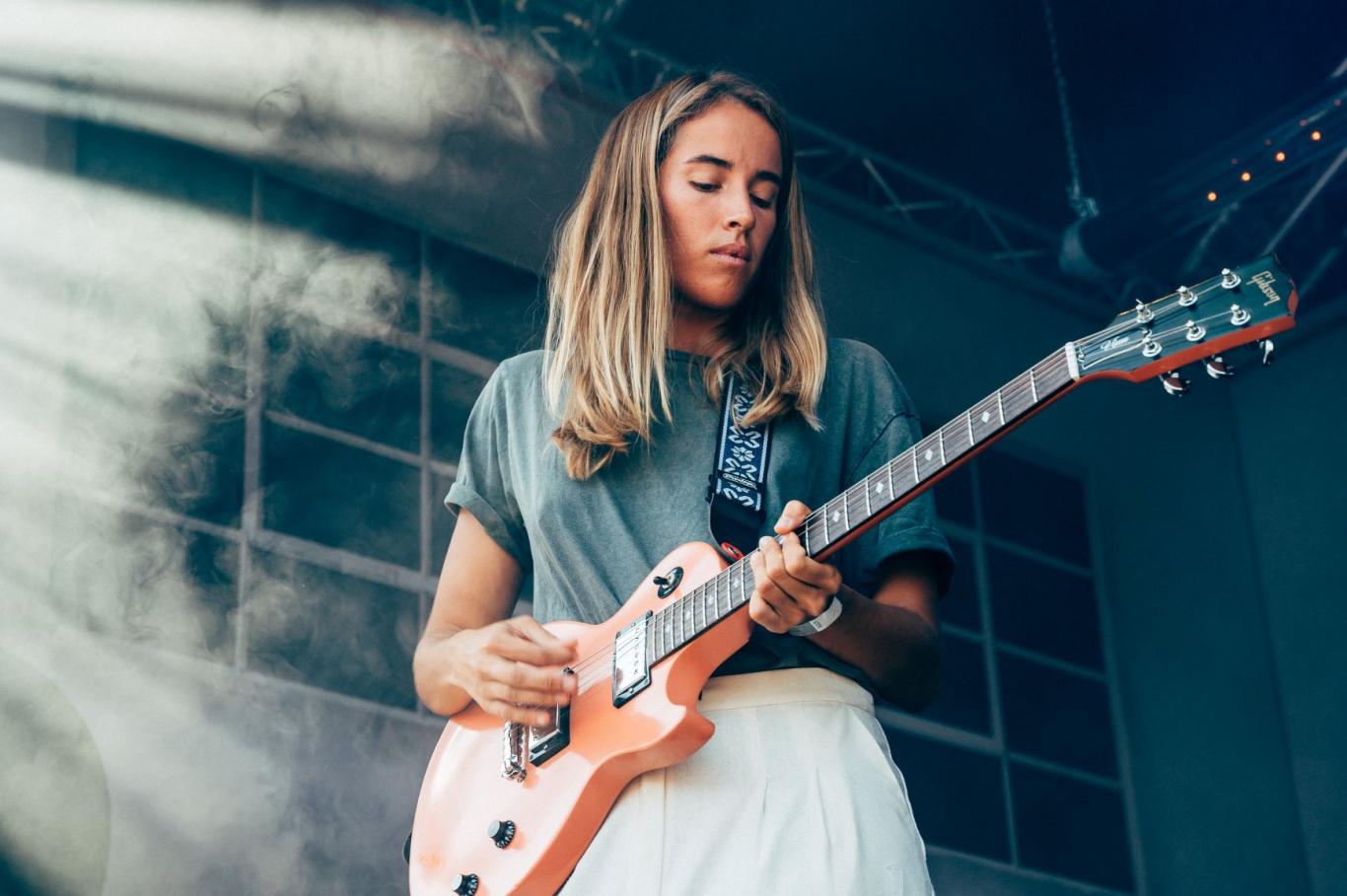 Photo Olivier Hoffschir
- What are your songs to get in the water and ones for after surfing ?
"To get in the water it's a mega 2000 playlist!
NELLY FT KELLY ROWLAND "Dilemma",
THE VERVE "Bitter Sweet Symphony",
SCATMAN "(ski-ba-bop-ba-dop-bop),
MADONNA "Beautiful Stranger",
MC BOMFUNK "Freestyler"...
And after surfing:
"CJ MIRRA "Destroy Us"
TIRZAH "Gladly"
HAYDEN THORPE "Earthly Needs
PAT CURREN "Digging Rail
BLUE HAWAII "Try To be
and BRAIDS "Letting go".
I owe 80% of my friends to surfing! "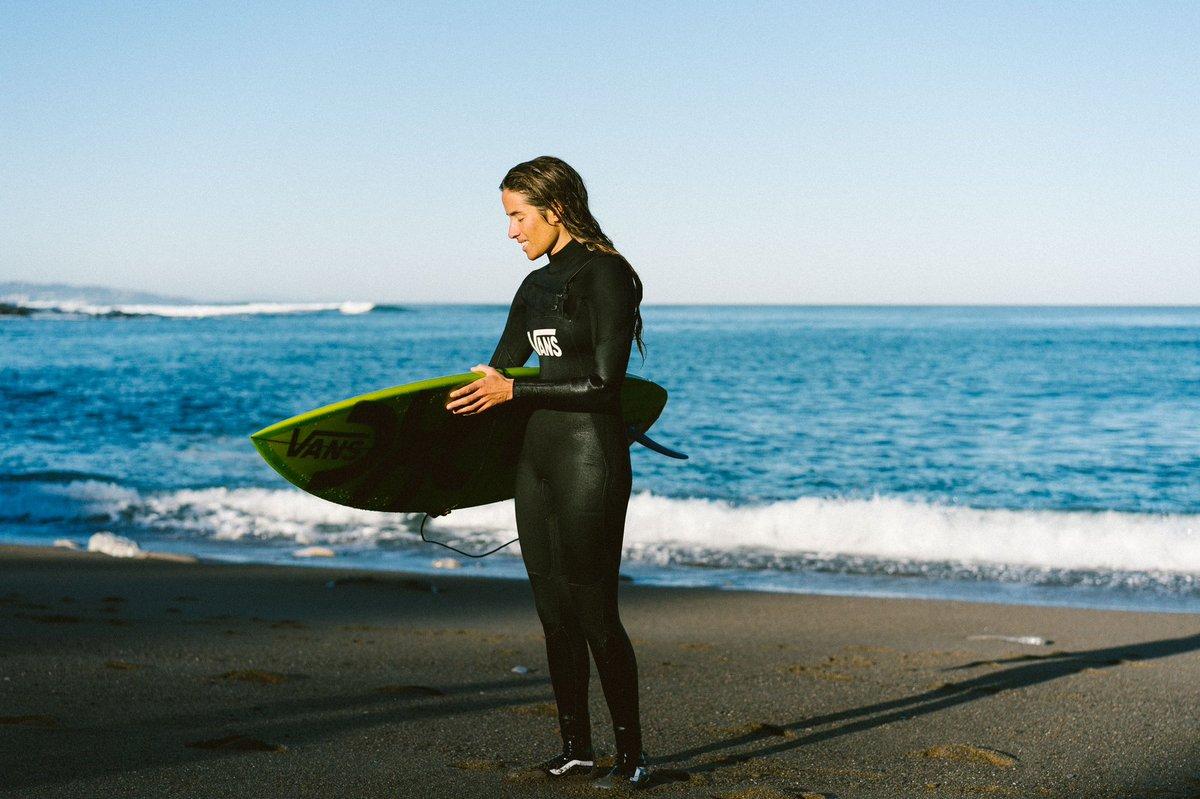 Photo Thomas Lodin
- Who do you share your sessions with ?
"I like to share my surfing with my girlfriend Lucie.
We are lucky to be able to share these moments.
And also with my brothers Nathan, Paul, Frank and Pat.
I owe 80% of my friends to surfing! "
- How do you compose and who do you play with at the moment ?
(April 2021)
"I worked on all the first part of the recordings at home.
Also remotely with Pierre of Petit Fantôme, my brother Pat who is in Southern California and Jo who plays drums on all the live shows.
We made a big collage with all the ideas and we just finished that at the Shorebreaker studio in Tarnos, France."
- What are your actions for the planet ?
"I am lucky enough to have a bulk store right next door to me.
We started composting 2 years ago and I really feel that the waste has decreased since we started these habits.
Although I am well aware that there is still a long way to go to be on zero waste."
- Do you have any album, travel and film projects in the works ?
"The EP I just finished should land on platforms and in physical stores most likely in the fall!
I'm also working on film projects with Vans, shot over several months and with the women's team.
As far as travel goes, I've really not moved around since the pandemic.
I've been focusing on all the great spots we have around our house."
Thank you Lee-Ann!
Published on
Tuesday, August 31, 2021