THOMAS LODIN
Local Boy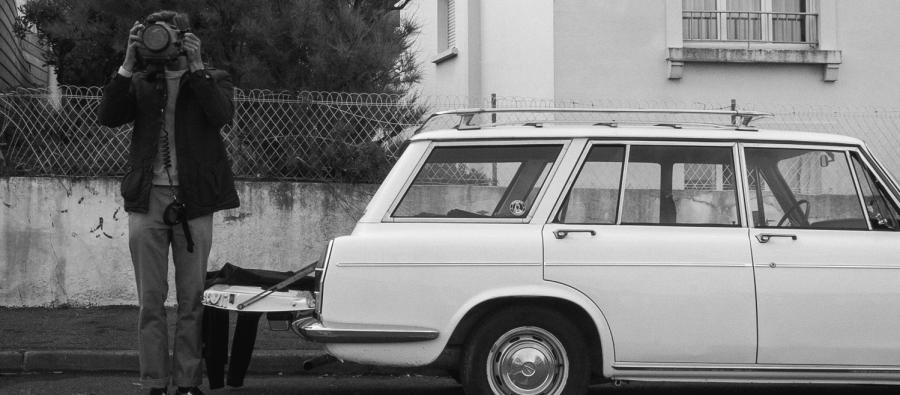 Photo Oscar Valencia
How was your last session?
The last one for us was totally amazing!
A wonderful session in the light of the sunset where time stopped...
Orange sky, red water on the horizon side and dark blue water with lunar reflections on the dune side.
No one was moving, everyone was silent, wanting to live and remember this moment.
Photography allows us to do that.
To record an image thanks to the light to keep the trace of a moment.
Thomas Lodin is a 28 years old French photographer.
Originally from Nantes, he lives in Biarritz since 2013.
You can meet him quite regularly at La Côte des Basques, around Guéthary, but also in Japan, Australia or California.
After numerous publications, he launched the free newspaper Sorry Mom Mag a little less than 10 years ago.
Several exhibitions of his pictures followed.
In 2019, he released the book IMPRESSIONS, published by Oxbow, the result of a 3-year photographic work, divided into three chromatic trends: "blue, white and red".
Since then, he multiplies his travels, personal projects and orders for various brands.
Today, Thomas is, for us, one of the best ambassadors of an artistic and authentic surf culture.
Thanks to him for his answers and enjoy reading this Focus!
See you soon in theaters for new films.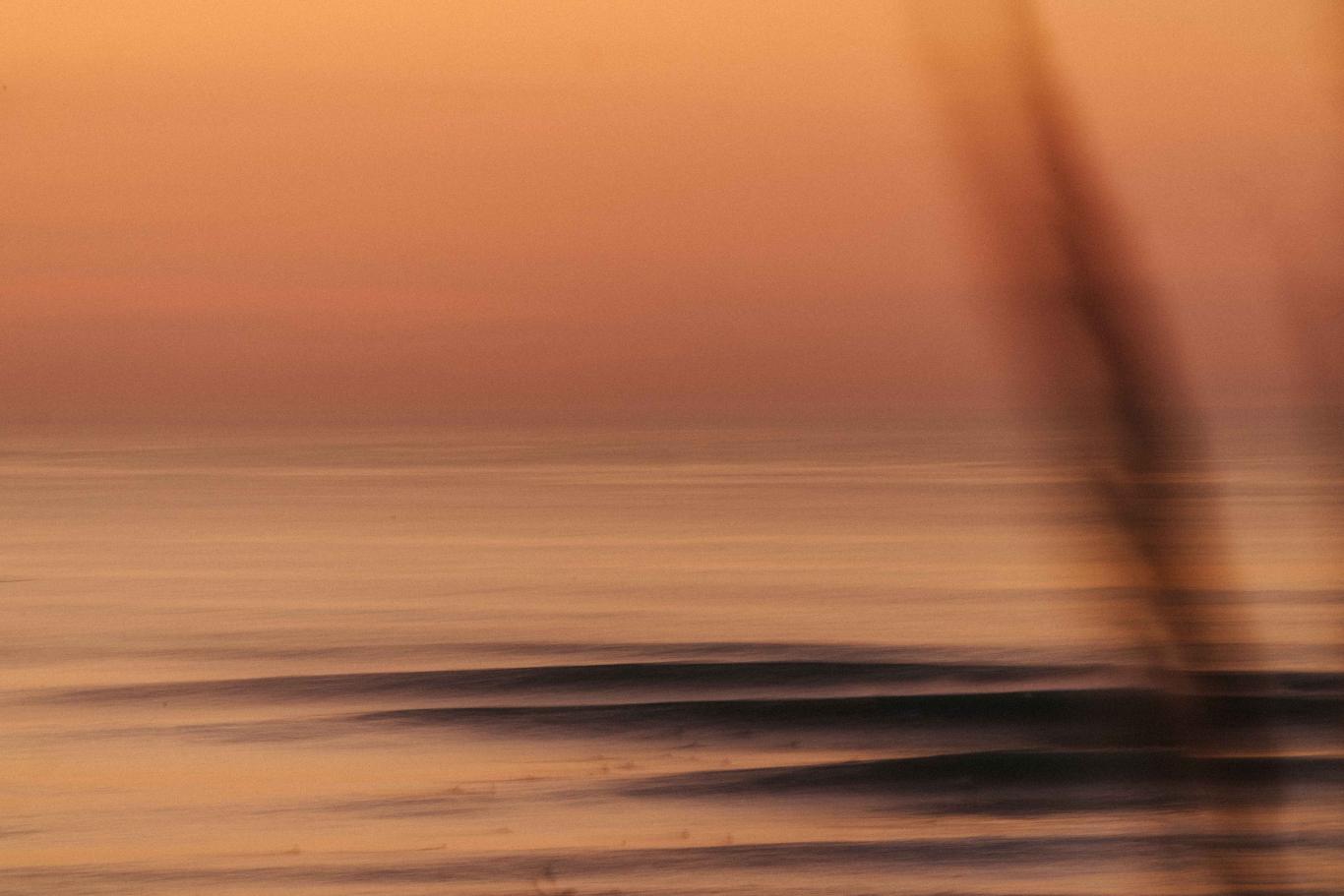 Photo Thomas Lodin
- Hi Thomas,
where are you from and when did you first see a picture of surfing ?
"I'm from Nantes.
I would say that the first surfing picture I saw was in the pages of a magazine that I looked at directly in the newsstand...
Or at the time of the Summer X Games.
They used to edit them in VHS, I think I must have been less than 10 years old!"
"I have great admiration for vintage surfers.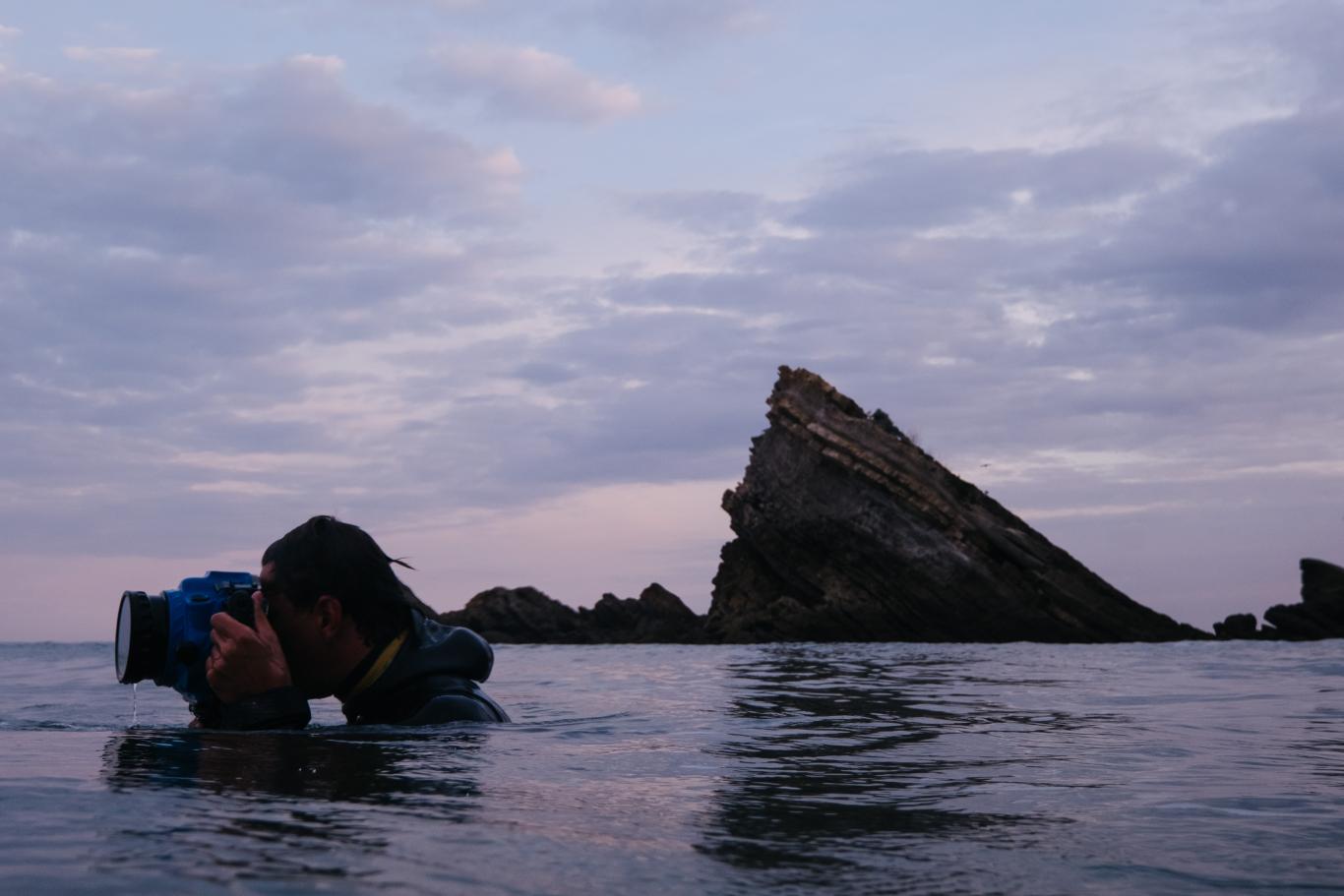 Photo Oscar Valencia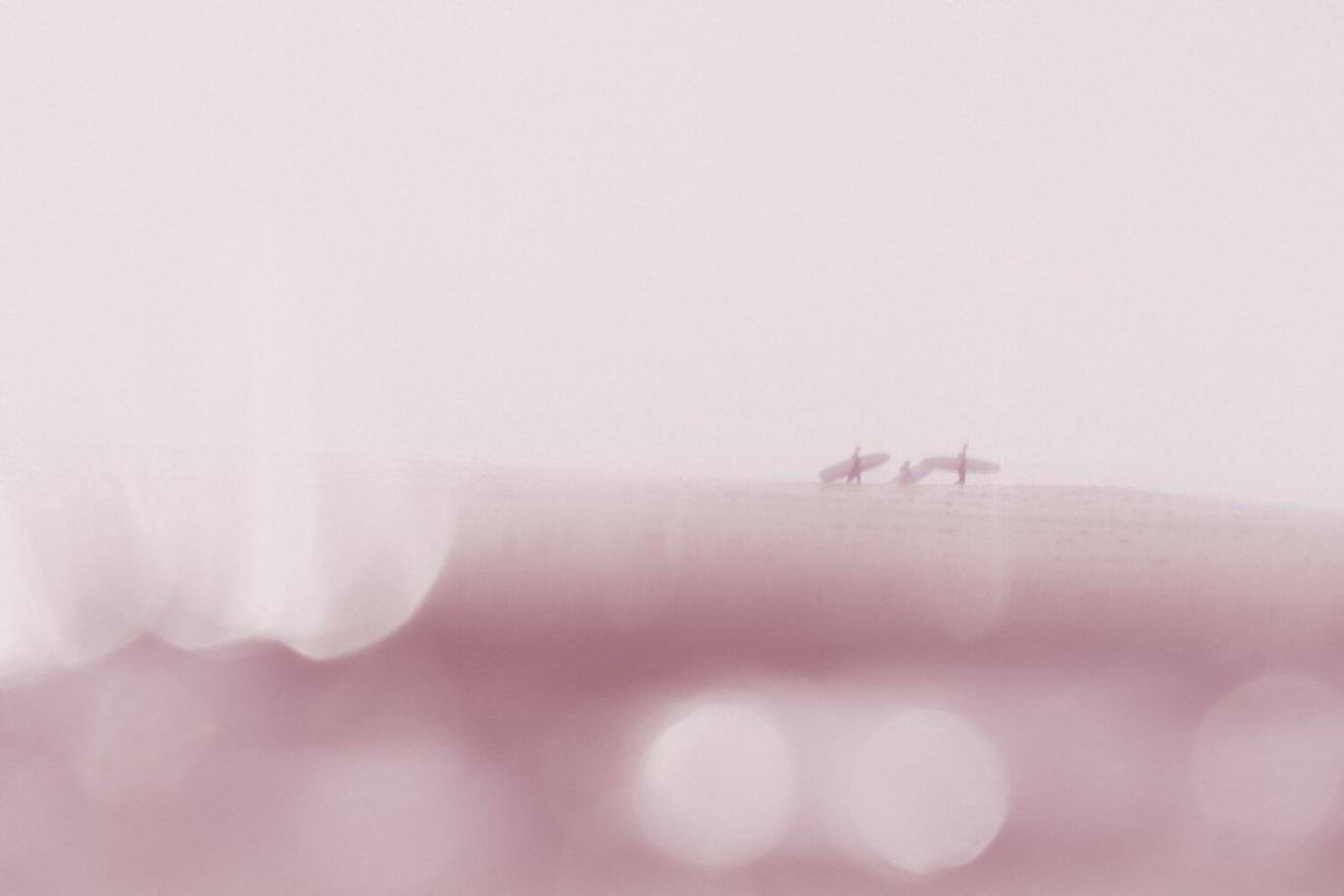 Photo Thomas Lodin
- What was your background and how did you get started in surfing ?
"I first got my hands on a camera when I was about 13 years old.
I was riding BMX at the time.
The scene was very developed and I had had the opportunity to hang out with some older guys who were riding hard.
I continued to take pictures and was assigned to do the annual contest photos for the skatepark.
Then I had some appearances in French magazines, some small exhibitions, and then Red Bull wanted to work with me.
I was around 18 years old and I was in a general science school.
I was missing classes to go and work on a lot of projects in every sports and my teachers didn't understand.
I quickly gave up the sciences and went to graphic arts school after my baccalaureate to continue taking pictures and develop my interest in graphic design.
Surfing took over cycling and I ended up doing an internship at Damien Poullenot's in Hossegor during my second year of study for 2 months...which finally turned into 6 months.
It was hard to go back to school after that.
I still did the following year, with an extra month in Australia.
Then I went back down to Biarritz.
Without any diploma because I still had one year left.
I've been here for 7 years now!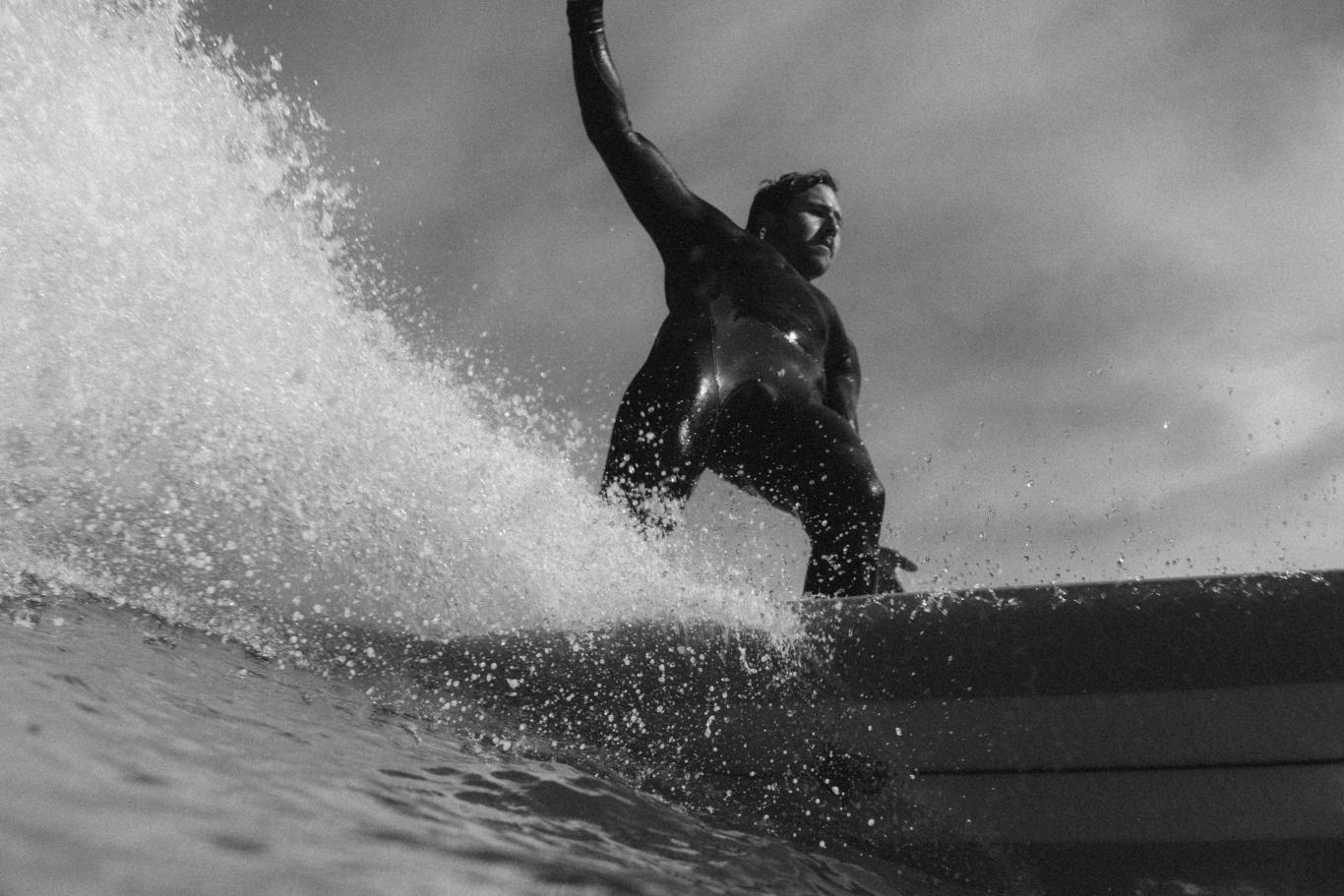 Photo Thomas Lodin
- What surfers, photographers and artists do you admire ?
"I have great admiration for vintage surfers.
Photographers too.
We owe them the innovations as well as the discoveries, both technical and geographical, that they brought to surfing.
The images of the time also transport me to another reality.
I have a particular affection for the 50's and 60's, but the first aquatic images in Hawaii are incredible.
The Ranch, Malibu, the North Shore and France a little later.
I think I actually admire their approach to surfing.
It was much different than today: simple and elegant.
That's what I'm going to look at most in a surfer or surferess today. "
"Taking pictures is a pretext to go and discover the unknown.
- What are your three best surf movies?
"ONE CALIFORNIA DAY
(Jason Baffa, Mark Jeremias - 2008)
It was a revelation for the age I was when it came out.
It's really the approach to surfing that I like.
BIG WEDNESDAY
(John Milius - 1979)
The story, the references, the casting, the surfing sequences, the people who filmed and also dubbed.
It's a good echo to your previous question.
LONGER
(J Brother - 1999),
For the soundtrack, the editing and the quality of Joel Tudor's surfing."
- What are your surf soundtracks ?
"I change all the time depending on the waves, the moment, the board I'm going to surf.
Right now there is:
ROY ORBISON "In Dreams",
THE ZOMBIES "Summertime",
NANCY SINATRA AND LEE HAZLEWOOD "Summer Wine",
STAN GETZ AND JOAO GILBERTO "O Grande Amor" and
SERGE GAINSBOURG "Intoxicated Man."
Working for brands that are really committed or have an approach to that is also important."
- What is the photo you are most proud of ?
"Usually it's pretty hard to pick a photo but for once I have one!
It's a picture taken at my friend Tristan "Fantastic Acid" Mausse's house.
He had built a shaping room in his garage so he could work at any time, day or night and still be home with his two daughters and his wife.
They often come to watch him and chat while he works.
Here is Louise, almost 4 years old, walking around a Vee Bottom that her father is working on.
Watch her hand check the thickness of the foam bar.
She's been watching her dad shaper for so long, she's just doing it as if she were an experienced shaper herself.
I'm curious to see if she'll follow in her dad's footsteps!"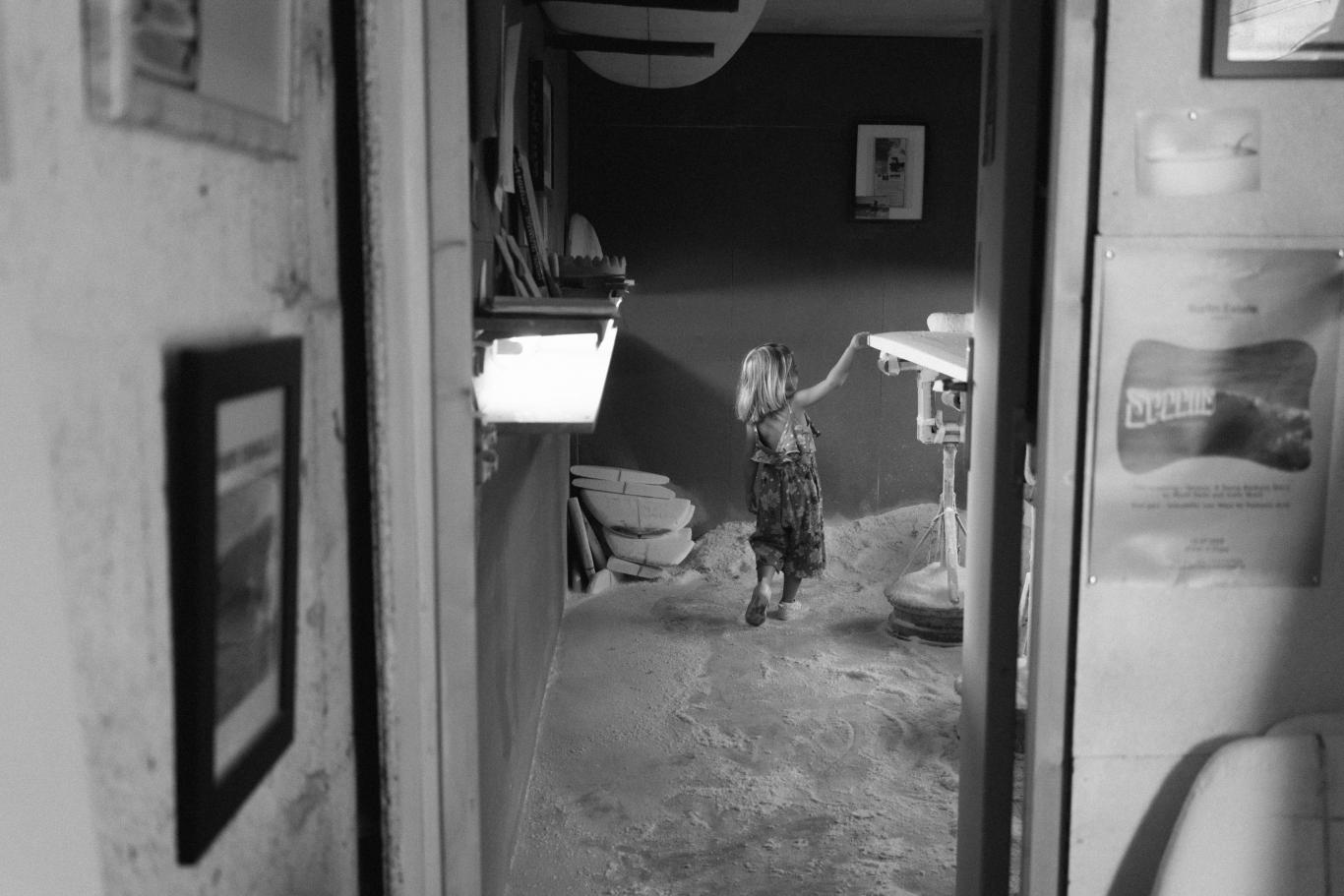 Photo Thomas Lodin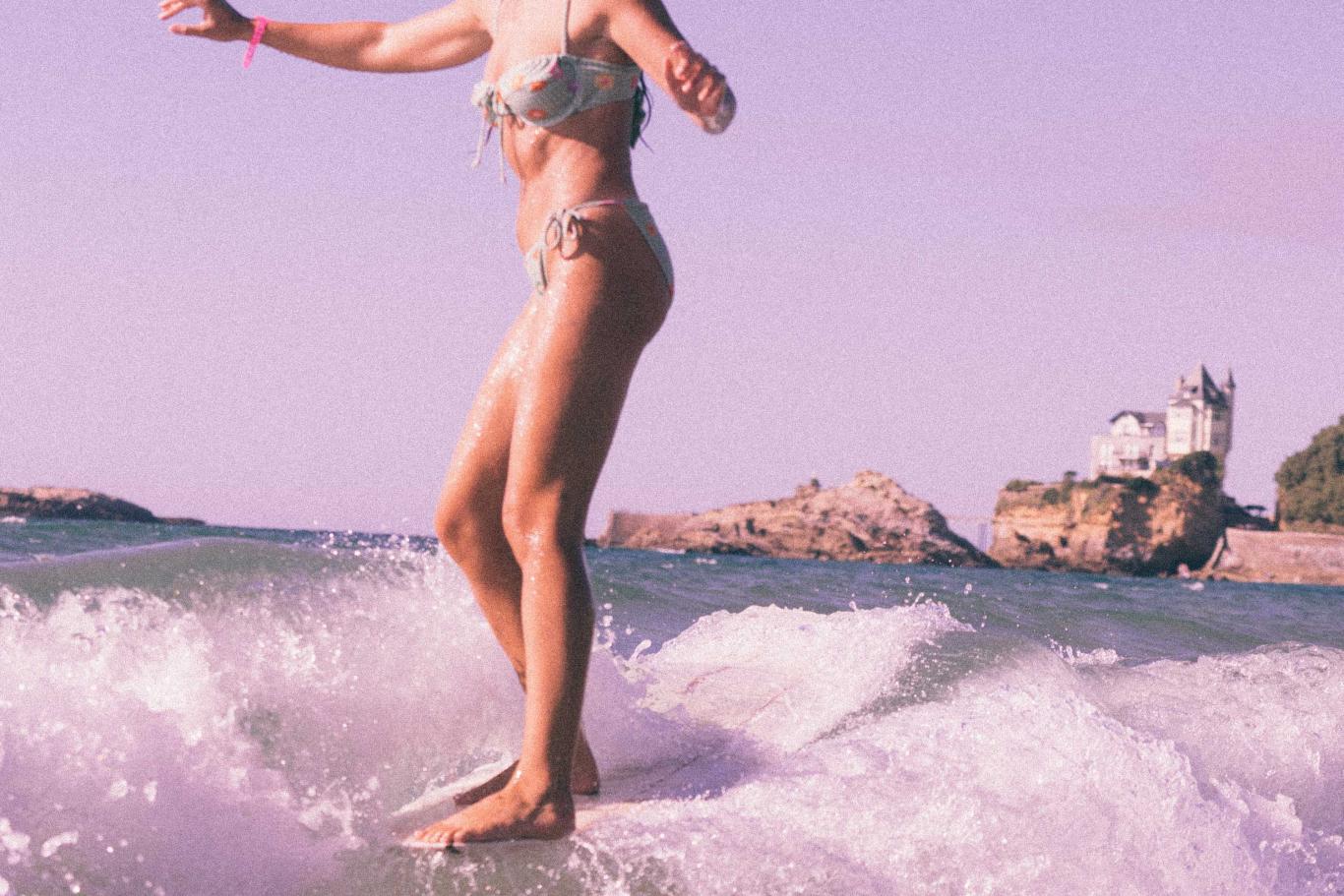 Photo Thomas Lodin
- Are you dreaming of a wave you haven't photographed yet ?
"Making pictures is an excuse to go discover the unknown.
So any wave that I haven't had the opportunity to see at its best, any destination.
Whether it's near my home, in France, in Europe or elsewhere."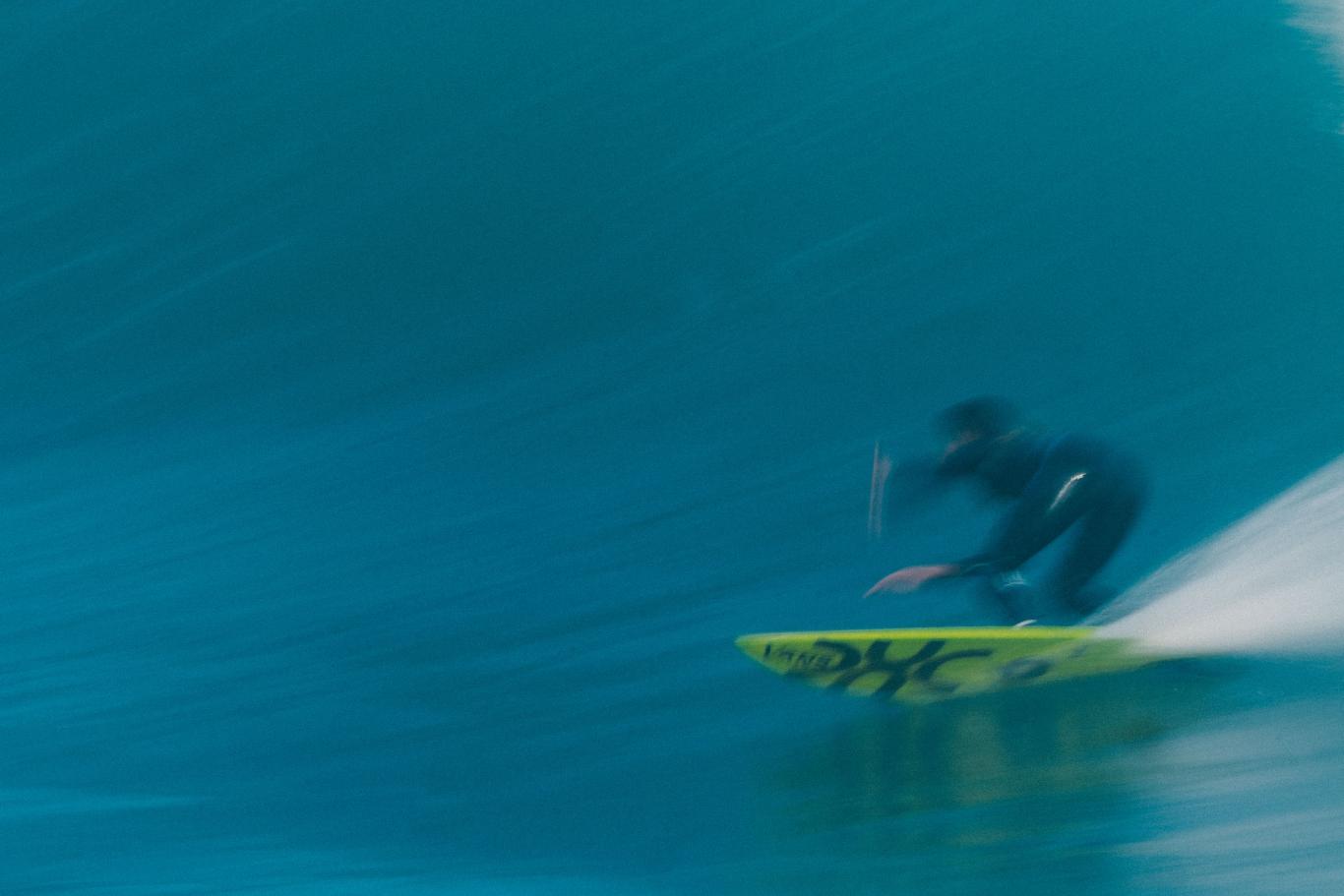 Photo Thomas Lodin
- What is your favorite equipment and conditions ?
"I mainly shoot with a Sony hybrid with lenses ranging from 24 to 400mm.
With a preference for 35 and 50mm fixed lenses.
Its size makes me look a bit like a tourist but it allows me to blend in.
Which is perfect.
A waterproof case to shoot in water and Dafin.
I also have film cameras with which I shoot for my personal projects!
I have a big tendency to favor late day light for the contrast and tones it brings.
Even if I can shoot at any time of the day, depending on the work I have to do.
You have to be able to get the best out of each light, it pushes you to be creative!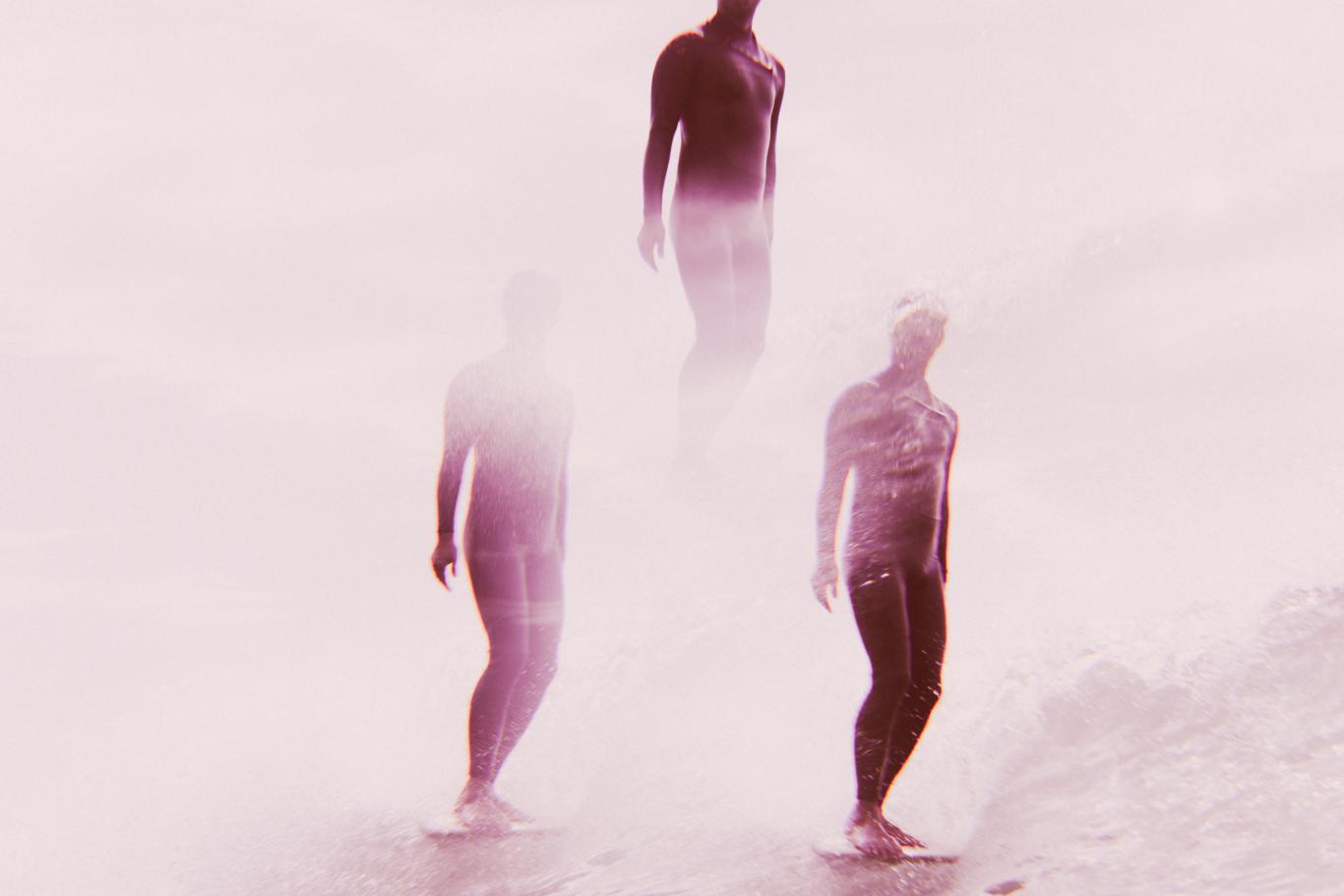 Photo Thomas Lodin
- What are you doing for the planet ?
"I haven't bought meat for several years now.
Even if I eat it sometimes at the restaurant.
I like to eat it but intensive breeding has too much carbon impact and what we put in our plate counts.
I favor quality and origin when I choose to eat it.
I also favor local and seasonal products.
In these purchases, I avoid as much as possible plastic when possible, in order to reduce my waste.
This doesn't make up for the transportation I have to use to do my job.
I am aware of this.
As a surfer we are not an example, but I try not to make things too bad.
Working for brands that are really committed or have an approach to it is also important."
- What are your future projects ?
"It's normally in the works with my buddy Mathieu Maréchal!
New images shot in France for Oxbow will be released this winter and I can't wait to share them.
The brand has become independent again and it's a new breath of fresh air that promises great developments and projects I hope!
I am also working on various projects for other clients.
In particular, I have designed a fin for Deflow which has just been released!
It's a D-Fin inspired by the 50s.
It's a rather atypical design that was specific to the Pigs at the time.
The goal was to combine the aesthetics of the object (when you don't necessarily have the board), with a remote but just as functional widepoint.
I tested it and surfed all last summer!"
Thanks Thomas!
Published on
Thursday, October 28, 2021